Osaka Asian Film Festival (OAFF) has been introducing new Indian films which to be remembered by cinephiles. In the previous festivals, award-winning films such as Bulbul Can Sing (2018/ Director Rima Das) and Newton (2017/ Director: Amit Masurkar) were screened.
There are many International film festivals held in Japan, although only few of them introduces Indian films as 'Japan Premier'. Last year, Tokyo International Film Festival (TIFF) presented NO Indian films.
This year, OAFF line-up was announced at the end of February. Four films from South Asian countries are included.
OAFF 2020 will hold all regular screenings as planned. Tickets go on sale from February 23. Co-hosted Program <Rediscovering Osaka through the Moving Image "Come to Life! vol.2 Gutai and Nakanoshima"> has been cancelled by the decision of the co-host organizer.#OAFF2020

— 大阪アジアン映画祭事務局:OAFF (@oaffpress) February 21, 2020
Competition
'The Odds' by Megha Ragaswami and Ansul Chauhan's 'Kontra' are selected for the competition.
The Odds (

2019/ India)
Director: Megha RAMASWAMY
2019|India|96min|Language: English|Subtitles: English, Japanese
Cast: Yashaswini DAYAMA, Karanvir MALHOTRA, Abhay DEOL, Priyanka BOSE
A coming-of-age story of a high school girl in Mumbai. Abhay Deol, whose previous film Dev. D (Hindi/ 2009/ Director: Anurag Kashyap) was screened at OAFF in the past, plays a singer and is credited as a producer. Director, Megha Ramaswamy has been directing short films that were screened at various international film festivals. 'The Odds' is her first feature film. 
http://www.oaff.jp/2020/ja/program/c09.html
Megha Ramaswamy website
http://www.megharamaswamy.com/
Megha Ramaswamy's coming-of-age series, 'The Odds', to premiere in LA (Nikhil VenkatesaMARCH 22, 2019 13:30/ The Hindu)
https://www.thehindu.com/entertainment/movies/indian-series-the-odds-to-premiere-in-los-angeles/article26607012.ece
Kontora (2019/ Japan)



Director: Anshul CHAUHAN
2019|Japan|145min|Language: Japanese|Subtitles: English
Cast: MARUI Wan, HIDEMASA mase, YAMADA Taichi, KOJIMA Seira, SHIMIZU Takuzo 
Indian director living in Japan, Anshul Chauhan's second feature film 'Kontora', which won the best film award of Tallinn Black Nights Film Festival (Estonia) will be premiered at OAFF 2020. 
http://www.oaff.jp/2020/ja/program/c06.html
Spotlight
Started in OAFF 2020, 'Spotlight' section screens four films from the world.
Roam Rome Mein   (2019/ India, Italy)



Director: Tannishtha CHATTERJEE
2019|India, Italy|101min|Language: Hindi, English, Italian|Subtitles: English, Japanese
Cast: Nawazuddin SIDDIQUE, Tannishtha CHATTERJEE, Valentina CORTI, Francesco APOLLONI, Urbano BARBERINI,
Isha TALWAR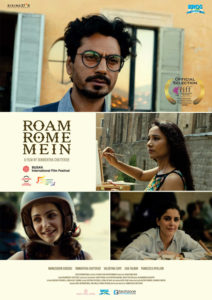 Tannishtha Chatterjee's first feature film, which was premiered at Busan International Film Festival 2019. Raj, played by Nawazuddin Siddique comes to Roma to find his missing younger sister.
Tannishtha Chatterjee and Nawazuddin Sidiqque worked together during the shooting of Lion (2016/ Director Garth Davis). When Tannishtha shared her idea of the film with Nawazuddin, and he liked, and the shooting began in two years' time. Nawazuddin reveals how this film started during the interview at New York South Asian Film Festival.
http://www.oaff.jp/2020/ja/program/sl04.html
Looking for a Lady with Fangs and a Moustache (2019/ Nepal, Mexico)
Director: Khyentse NORBU (2019/ Nepal, Mexico)
2019 |Nepal, Mexico |Language: Tibetan, Neplali|Subtitles: English, Japanese
Cast: Orgyen Tobgyal Rinpoche, Tsering Tashi GYALTHANG, Tulku Kunzang, Ngawang Tenzin, Tenzin Kunsel
A young Tibetan man Tenzin sees a vision of a girl. While he is seeking help, he meets a holy man who tells him that he will die within a week. However, a week passes very quickly. Director Khyentse Norbu was born in Bhutan and was recognised as the third incarnation of Khyentse lineage of Tibetan Buddhism at the age of seven. The film reflects his unique background as a Buddhist. International premiere screening.
http://www.oaff.jp/2020/ja/program/sl02.html
Special Screening
Made in Bangladesh (2019|France, Bangladesh, Denmark, Portugal)
Director: Rubaiyat HOSSAIN
2019|France, Bangladesh, Denmark, Portugal|95min|Language: Bengali|Subtitles: English, Japanese
Cast: Rikita NANDINI Shimu, Novera RAHMAN, Parvin PARU, Deepanita MARTIN
A 23-year-old woman who works at a clothing factory, faced with a difficult condition at work. With the help of her colleagues, she launched a union to improve the work environment. Based on a true story, the film shows the circumstances of Dhaka, a core of the garment factory of world brands. Director Rubaiyat Houssain has been working for women's rights NGOs in Bangladesh and making female-centred dramas such as Meherjaan (2011), Under Construction (2015). While Japan is importing cheap garments from Asian countries, this film will give us a thought about ethical fashion. Alongside the film screenings, a symposium 'Behind "Made in Bangladesh' is scheduled on March 13 (Fri).
http://www.oaff.jp/2020/ja/program/s01.html
In the circumstances of fears over Corona Visur spread, 15th OAFF will be screened as it was scheduled. Although festival guests will not show up and some events are canceled, says the official announcement.
3/6-15開催の第15回大阪アジアン映画祭は、新型コロナウイルス感染症(COVID-19)を巡る昨今の状況を鑑み、全ての舞台挨拶の中止、サイン会の中止を決定しました。なお上映については、予定通り実施します。楽しみにしていた皆様には申し訳ございません。ご理解のほどよろしくお願いいたします。

— 大阪アジアン映画祭事務局:OAFF (@oaffpress) March 2, 2020
The latest information is updated on the official website below.
▼Official Website
http://www.oaff.jp
▼ Ticket information
http://www.oaff.jp/2020/ja/ticket/index.html
NB:This information is as of March, 02.