COVID-19 emergency alert was lifted at the end of May. Doors of cinemas are being opened gradually. Just one thing is different from the previous days, audience is required to wear masks and keep social distance even in the theatre.
India-related film release of this month is a documentary film 'Tagore Songs'. Previously, this film was slated for April release but suspended due to the pandemic circumstances. Finally, the film was released at Pore-Pore Higashi Nakano Cinema and is to be released nationwide.
Other films are returning to the silver screens such as 'Prem Ratan Dhan Payo' (Hindi), 'Saaho' (Telugu), and 'Bajrangi Bhaijaan' (Hindi).
Cinemas are reopened, however, the number of seats is reduced to keep the social distance. To support the business of independent cinemas and film distributors, online theatre 'Temporary Cinema' is still in the operation.
[Release in June]
タゴール・ソングス (Tagore Songs)
A great poet and the first to win Nobel Prize in Literature from Asia, Rabindranath Tagore (1861- 1941) created more than two thousand songs. A debutant director Mika Sasaki created a documentary of Tagore Song singers in India and Bangladesh. The film shows how Tagore songs are popular in Bengali region through the portraits of each singer.
'Tagore Song' is currently available on 'Temporary Cinema' online, not only in Japan but also for India and Bangladesh till 2020/06/12. From 2020/06/01, the film is finally got released at  Pore Pore Higashi Nakano cinema in Tokyo.
Director: Mika Sasaki
Production & Distribution: Nondelaico
Production Year: 2019
Language: Bengali, English/ Subtitled in Japanese
©nondelaico
▼ Now showing at Temporary Cinema for India and Bangladesh ( expires on 2020/06/12)
▼ Watch Tagore Songs on Vimeo (in Japan) available till 2020/06/12
http://tagore-songs.com/temporary-cinema.html
▼ Official Site
http://tagore-songs.com/
▶︎ Tagore Songs: News and Reviews
[In Cinemas Now]
サーホー (Saaho/ Telugu/ 2019)
Baahubali star Prabhas starring big-budget action flick, 'Saaho' released at the end of March. Having returned to the silver screens in Japan nationwide.
Director: Sujeeth
Cast: Prabhas, Shraddha Kapoor, Jackie Shroff, Neil Nitin Mukesh, Arun Vijay, Chunky Pandey, Vennela Kishore, Murali Sharma
Distribution: Twin
©️UV Creations
▼Official Site
https://saaho.jp/
プレーム兄貴、王になる (Prem Ratan Dhan Payo/ Hindi/ 2015)
Following the hit of 'Bajrangi Bhaaijaan' in 2019, now Salman Khan starring PRDP is being released in Japan.
Original title:Prem Ratan Dhan Payo (Hindi/ 2015)

Director & Writer: Sooraj R. Barjatya

Cast: Salman Khan, Sonam Kapoor, Neil Nitin Mukesh, Anupam Kher, Deepak Dobriyal

Music: Himesh Reshammiya

Distribution: SPACEBOX
©️Rajshri Productions ©️Fox Star Studios
▼ Official Site
https://prem-aniki.jp/

バジュランギおじさんと、小さな迷子 (Bajrangi Bhaijaan/ Hindi/ 2015)
Released in January 2019, Bajrangi Bhaijaan became a smash hit film at Japan's box office. The film is returning to the screens again.
【速報】6/1(月)〜再上映決定‼️

新宿ピカデリーhttps://t.co/Efi4ZXDB9x

MOVIX さいたまhttps://t.co/5AgCIdw9qv

劇場内での感染症予防対策をしっかりと行って
ご来場をお待ちしております✨#バジュランギおじさん pic.twitter.com/V4JVn5QPWl

— 映画「バジュランギおじさんと、小さな迷子」 (@Bajrangi_movie) May 30, 2020
▶︎ Bajrangi Bhaijaan News and Reviews
マッキー (Makkhi/ Dubbed in Hindi, Subtitled in Japanese/ 2012)
Hindi dubbed version of S.S.Rajamouli's 'Eega', the film was released in 2013 in Japan. Responding to the requests from filmy fans, 'Makkhi' returned to the cinema at the end of 2019.
∞〜
上映スケジュール決定

東京・MOVIX亀有
営業再開㊗️に伴い6/1(月)〜
『マッキー』#マッキー復活ロードショー 上映スタート

宮城・MOVIX利府でも絶賛上映中! pic.twitter.com/3etu8QkIuX

— 映画「マッキー」"復活"ロードショー (@makkhi_again) May 30, 2020
[Coming Soon]
WAR ウォー!!(WAR/ Hindi): Release from 2020/07/17 (Fri)
Top hit Indian film of 2019, Hrithik Roshan and Tiger Shroff starring 'WAR' will be releasing in Japan in July.
Director: Siddarth Anand
Cast: Hrithik Roshan, Tiger Shroff, Vaani Kapoor
Music: Vishal-Shekhar
Distributor: Culture Publishers (in cooperation with Inter Films)
©️Yash Raj Films Pvt. Ltd.
▼ Official Site
https://war-movie.jp/
[Release Date Fixed]
The new release dates are announced of films which releases were suspended due to COVID-19 pandemic.
カセットテープ・ダイアリーズ(BLINDED BY THE LIGHT) Release date: 2020/ 07/ 03
Set in 1987 in England, an immigrant boy from Pakistan learns how to live his life through the music of an American musician, Bruce Springsteen. The film is based on the true story of a journalist Sarfraz Manzoor. Music is by Bruce Springsteen and A.R. Rahman.
Director: Gurinder Chadha
Cast: Billy Barratt, Ronak Singh Chadha Berges, Viveik Kalra
Distributor: Pony Canyon
© BIF Bruce Limited 2019

▼ Official Site
http://cassette-diary.jp/
きっと、またあえる(Chhichhore)  Release Date: 2020/08/21 (Fri) 
A bunch of 'Losers' of a college dormitory struggles to win dormitory tournament. In 30 years' time, they happened to have a reunion at a hospital. A father tells their stories to his son, who committed suicide after having failed the entrance exam is very encouraging. Blockbuster 'Dangal' director, Nitesh Tiwari inspired the story from his son's experience.
▼ Official website
http://www.finefilms.co.jp/chhichhore/
[DVD Pre-Orders]
フライング・ジャット  (A Flying Jatt/ Hindi)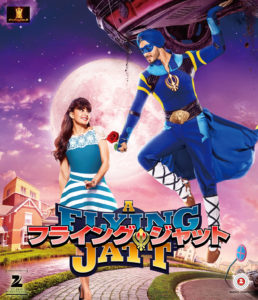 All kids in Japan were fascinated with masked heroes in their childhood. Some of them are with turbans such as 月光仮面(Gekko Kamen = Moonbeam Man) and レインボーマン (Rainbow Man). Remo D'Souza's 'A Flying Jatt' pulled us in some kind of nostalgia. When the film was screened at Indian Movie Week (IMW) 2019, it became a cult-classic. In India, this film is known as a flop. Probably the world's first DVD and Blu-ray of this film will be on sale next month in Japan. As the creators did not focus on it so, it happened to be fit into the mask heroes' cultural context in Japan.
Subtitles: Japanese
Release date:2020/07/03(Fri)
プレーム兄貴、王になる (Prem Ratan Dhan Payo/ Hindi)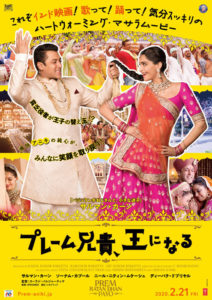 The chemistry of Salman Khan and Sooraj R. Barjatya created a heart-warming Masala flick. DVD & Blu-ray will be released in August.

Subtitles: Japanese
Release date:2020/ 08/ 05 (Wed)
ウスタード・ホテル  (Ustad Hotel/ Malayalam)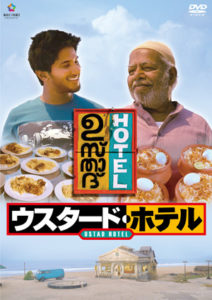 Aspiring to be a chef, Fayzee returns from Europe. However, his conservative father does not agree with him and disown him. He found a place at his grandfather's affordable restaurant 'Ustad Hotel', Fayzee, who is from a well-to-do family finds gems of his life. Having introduced at Indian Movie Week 2019, 'Ustad Hotel' is to be released on DVD.
Subtitles: Japanese
Release date:2020/ 09/ 02 (Wed)

[OTT Release]
燃えよスーリヤ! (Mard Ko Dard Nahi Hota/ Hindi/ 2018)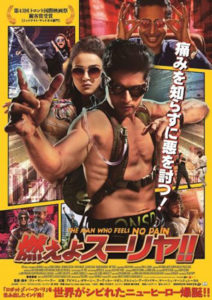 Hindi Kung-fu film, 'Mard Ko Dard Nahi Hota', was released in cinemas in December 2019. Vasan Bala's new Bruce Lee film is now available on Amazon Prime Video (JP) and U-Next with Japanese subtitles.
[Stay Home Cinemas]
仮設の映画館 (Temporary Cinema)
To release suspended films and to support independent cinemas 'Temporary Cinemas' have been launched by a film distributing company on 2020/04/25.  13 films, including 'Tagore Songs' are released on this platform.
▼ Temporary Cinema
https://www.temporary-cinema.jp/
Help! The 配給会社プロジェクト (Help! The Distributors Project)
Same to independent cinemas in Japan, film distributors are also suffering from no-business days due to the pandemic. A project to support film distributors, 'Help! The Distributors Project was launched in May. 12 distributors joined to this project and showing 20-30 titles on 'UPLINK Cloud' OTT.
(文中敬称略