Same to the other countries, COVID-19 impact weighs on the cinema industry in Japan as well. Since the government of Japan declared the state of emergency on April 06, cinemas are continued to be closed. To support films and independent cinemas, distributors and filmmakers launched 'Save the Cinema' petition drive and fund-raising, and online theatre 'Temporary Cinema'. On this platform, 'Tagore Songs' is scheduled to be released in early May.
[Online Release]
タゴール・ソングス (Tagore Songs)
A great poet and the first to win Nobel Prize in Literature from non-European countries, Rabindranath Tagore (1861- 1941) created two thousand songs, sung in Bengali region. A debutant director Mika Sasaki created a documentary on it.
Sasaki says to the newspaper interview, she was allured to Tagore songs while she was studying Bengali at the university, she made a decision to make a documentary on Tagore songs. As this is her first production, she learnt how to make films at the workshop. Unfortunately, due to COVID-19 crisis, there are no cinemas are available for the release, this film will be released online cinema platform 'Temporary Cinema.
[Film Information]

Director: Mika Sasaki
Production & Distribution: Nondelaico
Production Year: 2019
Language: Bengali, English/ Subtitled in Japanese

▼Temporary Cinema
http://www.temporary-cinema.jp/

▼Tagore Songs Official website
http://tagore-songs.com/
[Release Postponed]
Film releases are postponed since the end of March. Waiting for the announcement of new release date.
カセットテープダイアリーズ (Blinded by the Light)

Bruce Springsteen's songs change life of a boy, who is immigrated from Pakistan. Directed by Grinder Chadda. Based on a true story.

きっと、またあえる (Chhichhore)

When a young boy fails to pass the entrance examination, he commits suicide. Luckily he is survived. At the hospital, his father recalls his campus days with a group of his friends. Director, Nitesh Tiwari inspired the idea to cheer up the younger generation that living is not always about winning. 
[Waiting at the Cinemas]
サーホー Saaho(Release date: 03/27)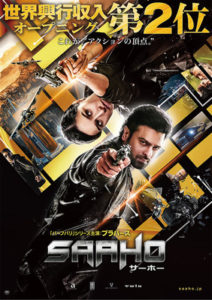 Baahubali star Prabhas starring big-budget action flick, 'Saaho' released at the end of March. However, due to the COVID-19, the cinemas were closed nationwide. Waiting for the re-open.
Director: Sujeeth

Cast: Prabhas, Shraddha Kapoor, Jackie Shroff, Neil Nitin Mukesh, Arun Vijay, Chunky Pandey, Vennela Kishore, Murali Sharma 

Distribution: Twin
©️UV Creations
▼Official Site
https://saaho.jp/
プレーム兄貴、王になる Prem Ratan Dhan Payo(Release date: 2/21)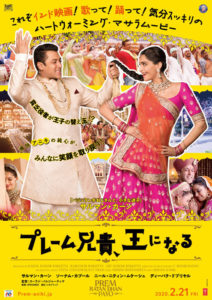 Following the hit of 'Bajrangi Bhaaijaan' in 2019, now Salman Khan starring PRDP is being released in Japan.  Waiting for the re-open of cinemas.
Original title:Prem Ratan Dhan Payo (Hindi/ 2015)

Director & Writer: Sooraj R. Barjatya

Cast: Salman Khan, Sonam Kapoor, Neil Nitin Mukesh, Anupam Kher, Deepak Dobriyal

Music: Himesh Reshammiya

Distribution: SPACEBOX
©️Rajshri Productions ©️Fox Star Studios
▼ Official Site
https://prem-aniki.jp/
[DVD Release]
Release of this month is 'Andhadhun' only.
盲目のメロディ ~インド式殺人狂騒曲~  (Andhadhun)
Release Date: 05/08
[Pre-Order DVD]
フライング・ジャット (A Flying Jatt)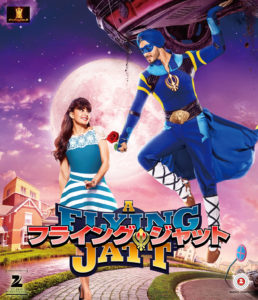 Release Date: 07/03
プレーム兄貴、王になる (Prem Ratan Dhan Payo)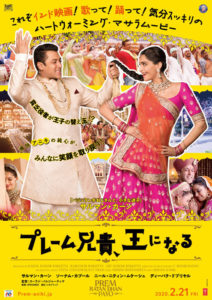 Release Date::08/05
[News and Updates]
Due to stopping the spreads of COVID-19, some cinemas and theatres were closed in early March. In April, the government of Japan declared the state of emergency, it was not the curfew, though, cinemas across nationwide had to shut down the door. 
Film distributors postpone the new release. Independent cinemas have no audience and no profit since then.
To support independent cinemas, on April 6th, filmmakers and cinema managers launched 'Save the Cinema' campaign for a petition drive and fund-raise.
Film distributors also launched 'Temporary Cinema' to release postponed new films.
Save the Cinema Campaign
Save the Cinema (Petition Drive)
Mini-Theatre Aid Fund-raise
To support independent cinemas in Japan, Mini-Theater AID launched in April. 'Future tickets' 'Token for OTT service' are prepared as the return for the donators. The campaign will be closed on May 14th.
https://motion-gallery.net/projects/minitheateraid
https://twitter.com/MiniTheaterAID/status/1249548283833278465?s=20
Temporary Cinema
To release new films and support independent cinemas, film distributor Tofoo(東風) launched online cinema 'Temporary Cinema (仮設の映画館)' on April 25th. 
As of May 02, nine titles are listed in the in this programme.  'Tagore Songs' will be released on this platform. Release date will be announced soon.
▼ Temporary Cinema
http://www.temporary-cinema.jp/